In Game Account(s): MustangTX (Soon-to-be DCBronco)
Age: 29 years sexy.
Previous Clans and how long you spent in each:
I've been a member of Enjoy's (-_-) feeder clan "Indeed" (-_Q). I was there for a few months. Before that I was a Clan Wars member of 3rd Armored Calvary Regiment (3DACR) for a span of about a year back when WoT was in it's infancy just starting out.
Reasons why you left those groups:
 3DACR was disbanded and broke apart and reestablished under different management. I decided to split ways once Command started showing signs of drama within. I was a part of Enjoy for a couple months but decided to take a hiatus from the game. Upon return It was generally a ghost town, so I left in search of something better.
Do you know anyone in our Community? If yes, who?
Not personally no, but I feel I have met quite a few people today and have enjoyed everyone's company thus far.
Have you been on our TS previously?
Yes, I'm on it right now!
List your Tier 10 vehicles, as well as the damage per battle and Win % for each:
No Tier 10 vehicles yet. Currently working on getting a T110E5 in my garage. Up next will be the FV4202, followed by the Foch 155.
What Class of Tier 10 vehicles do you perform best in?
Please insert an image (not a link) of your WotLabs.net signature (banner with stats): 
How many days per week can you attend Clan Wars?
I will attend it whenever my schedule allows.
What time zone do you currently reside in?
Central (US)
What makes you want to join Gentleman Gaming?
I found the forum recruitment thread, I've talked and played with people in the clan and am ready to make the commitment of being a Gentlesir.
Do you have Previous Clan Wars experience? If yes, with who and in what role? 
3DACR (Mostly played Base Defense)
What are your ambitions as a member?
I aspire to become a valuable fresh fish within the Clan Wars group within Gentleman Gaming. 
Tell us a little bit about yourself. What kind of a person are you? 
I'm 29, I hail from Weatherford, Tx. I love all things military though I have not served (I tried). I am an avid car enthusiast, hold two jobs and love to game. I'm always making jokes and poking fun at times. But I do know the meaning of battle comms and I also know how to follow orders when given.
If you could be an animal, what would you be and why?:
A horse, duh.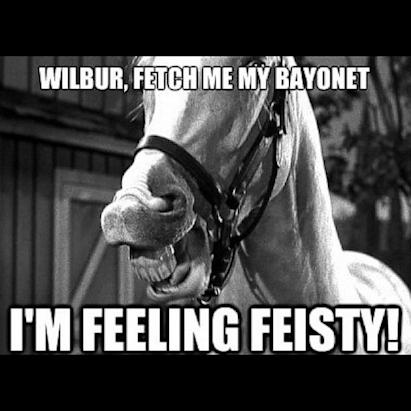 One of the Officers in our Community is an idiot. Who do you think it is?
Can't be Bud... or is it? I've got my eye on you, good sir.

DCBronco




Posts

: 1


Join date

: 2014-10-21



Why not, if anything he could help breath some life into MITS>

NordicRose




Posts

: 1251


Join date

: 2013-05-14


Age

: 23


Location

: Connecticut



+1 from me. More MITS members is awesome. My office has an open door for platoons with MITS members. Well my imaginary office cause I don't actually have one. Just poke me on TS.

camrox92




Posts

: 94


Join date

: 2013-10-30


Age

: 25


Location

: North Carolina



+1
Accepted, come on TS and, look for a MITS officer.

Lethal-Force




Posts

: 1174


Join date

: 2013-09-11


Age

: 22


Location

: Asheville, NC (When you mix hippies with red necks, along with everything under the sun, you get Asheville)




---
Permissions in this forum:
You
cannot
reply to topics in this forum